Why Do So Few LGBTQ Electeds Hold Federal or Statewide Office?
Pete Buttigieg's political experience is on par with the majority of LGBTQ elected officials nationwide -- here's what that means.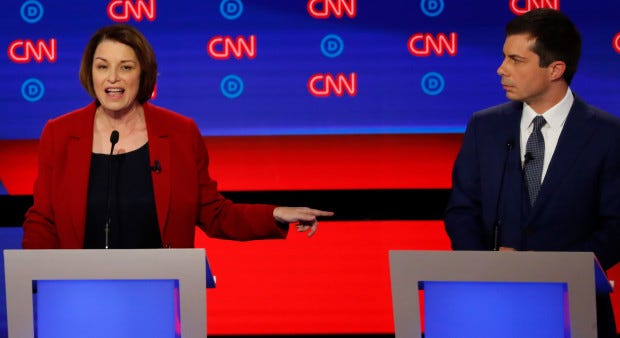 A small town mayor and relative newcomer to politics, Pete Buttigieg and his resume invite frequent scorn from rival campaigns helmed by US Senators and even a former Vice President in Joe Biden.
For many women including Sen. Amy Klobuchar, Buttigieg is the epitome of double standards for men and women, the embodiment of white male privilege. On numerous occasions, Klobuchar's argued that no woman his age (he's 38) with his experience would be taken seriously as a presidential contender.
For Biden, Buttigieg's mayoral service shouldn't be mentioned in the same breath as his achievements earned over decades. Biden's team is behind one of the cycle's snarkiest ads belittling Buttigieg's mayoral achievements.
Buttigieg's political experience, whether you think it's his greatest asset or a joke, is reflective of the larger LGBTQ electeds cohort serving nationwide today.
Breathless media takes touting "Rainbow Wave" elections, the perceived ease of Buttigieg's high profile candidacy, and queer people's overall media visibility have skewed the Democrat's collective sense of LGBTQ people's actual electoral power.
The cold hard numbers are sobering:
When Biden, 77, first ran to serve on the New Castle City Council in 1970, no LGBTQ person had ever run for and won elective office. The Stonewall Riots catalyzed the modern LGBTQ rights movement only a year before. It wouldn't be until 1972, that Kathy Kozachenko, running under the Human Rights Party banner, would win a seat on the Ann Arbor City Council, becoming the first LGBTQ person to ever hold elective office in the U.S.
When Bernie Sanders, 78, boasted in a recent debate that he ousted an incumbent Republican House member in the 1990s, the LGBTQ community was still reeling from the AIDS epidemic taking with it thousands of gay lives in the eighties.
When Klobuchar, 59, first ran for the US Senate in 2005/6, homosexuality had only been decriminalized three years earlier. This was during the height of the Right's push for a constitutional ban on gay marriage. No LGBTQ person at this time had ever served in the U.S. Senate.
The LGBTQ congressional caucus didn't grow past single figures until 2018 (eight in the house; two in the senate). Only 16 out representatives have served in Congress in total.
Scrutinizing a candidate's temperament, record, and resume is for sure warranted. It's reasonable to want candidates for the presidency to have served in Congress, or in a substantive statewide role, or something comparable.
But as this very brief history and the very real numbers attest, it is exceedingly difficult for under-represented minorities to make electoral gains when society has severely stymied their participation in the political arena for decades. I'm guessing if it were so easy for gay men to run and win campaigns up and down the ballot, more would have already done so by now.